Give an exotic touch to your environment: learn how to upholster a door and integrate the rest of your home decor.
Upholstered how easily a Door
Surely never before thought of a door upholstery, is that the openings and frames are usually left neutral, with wood or painted metal, mingling with the tones of the decor, while reserves upholstery for chairs, sofas and few moving parts.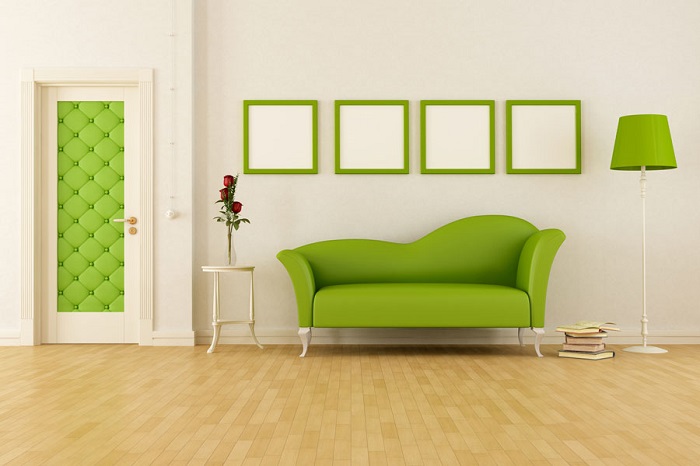 But no more than that conventional decoration: today will change the approach to the decor of any environment and learn to make an upholstered door in 10 easy steps to give an exotic, elegant and modern touch, and using the materials you prefer.
Items needed 
You can make an upholstered gender you prefer door, from the opulent to the elegant velvet leather upholstery or a fun colorful cotton prints. Here you have a list of general materials, you can adapt the design and style that you seek to achieve.
To upholster a door on a classic look, you'll need:
3 meters (just over 3 yards) of felt, wool or another, to make the filling (you can replace fleece, cotton or other synthetic)
3m ecological leather, vinyl or upholstery fabric you want to use (we suggest you choose an easy to clean and maintain)
Colorless universal adhesive without toluene, and / or spray adhesive
Scissors
Precision knife, box cutter or cutter
Small hammer
Upholstery tacks style and color you want
Thick thread (to mark your design)
Masking tape, low contact
Steps to upholster a door
To make an upholstered door begins to remove it from its frame and place it on a table in spacious and firm, or directly on a blanket placed on the ground work.
Cut one or two pieces of felt or fleece (depends if you're going to upholster one or both sides), that are 3 centimeters shorter and narrower than the door, so that the pearls on it has a margin of 1 5cm on 4 sides.
Spray the door with spray adhesive (colorless or put universal adhesive without toluene) and adheres to the door filling, centering it well. A fixed time cannot fix it, so it works with dedication. If you use thin felt overlaps two or more layers to make a soft surface, Style conventional upholstery (not have this problem if you use synthetic fleece or cotton).
Cut one or two rectangles of ecological leather, vinyl or fabric upholstery, about 3 centimeters longer and wider than the size of the door that you are upholstered.
Spray the edge that is not covered with fleece with universal adhesive or aerosol, making sure that there is sufficient glue to the edges of the opening.
Accommodates well above the fabric, without being too tight or stretched, or it is wrinkled. I remember, do it thoroughly, so that the fabric is well placed from the start. Press right or puts some weight, and allowed to dry for 30 minutes before continuing.
Using adhesive tape on contact and the thick yarn, mark the design you want to achieve. Yarn is to ensure that there is a framework of good straight lines around the fabric to upholster the door(check that they are not in contact with the frame to allow close well), along with diamond designs or you prefer.
Using the hammer and some patience begins to nail the studs following the design. Calculate all spaces are well distributed or too loose nor stuck well.
Now ready design upholstered door, let me finish drying the adhesive according to manufacturer's instructions, and remove excess fabric using the utility knife.
You can flip the door and repeat on the other side, if you've chosen, or return it to its frame.
With these 10 easy steps you can make an upholstered door in just one afternoon's work, and the atmospheres completely revamp your space.