Do you remember those great music equipment that our parents had at home in our childhood? The furniture modules, plate, double plate, CD, radio, equalizer, amplifier … authentic mastodons that yes, gave a brutal sound quality but now do not usually see so much (at least in average users) either price or because our houses are getting smaller.
These devices have been displaced by more compact models, so much so that it is the connected speakers that have come to occupy the leading role as a companion to listen to music from our mobile (either stored or streaming) using the microUSB port, the connection Lighting or Bluetooth. And now that summer comes there are many who take the opportunity to enjoy the good weather on our terrace or garden (if we have it) listening to their favorite music. Let's review some of the most interesting options in the market.
Sony SRS-XB41
This Sony speaker is water resistant and lights up to the beat of the music. A compact model that offers a lighting system that changes to the rhythm of the music to set the mood for our meetings. The lighting system, located around the loudspeaker, is of LED type and next to it, it includes two strobe strobes. The light system is synchronized with the music that is playing at that moment.
Regarding the sound, it has DSP technology that favors the distribution of sound by simulating the audio in 360 degrees. It integrates two 58 millimeter full range speakers that seek to distribute the sound spatially in the most suitable way. It also offers IP67 certification and with which this speaker is made resistant to dust, water and oxidation of the structure. The Sony SRS-XB41 speaker is available in four colors and can be purchased for 199 dollars.
LG PK5
LG also has an option of this type. It's the LG PK5 speaker, a waterproof outdoor portable speaker that seeks to make it easy for us to have music everywhere even if we do not have access to the nearby power outlet.
Since it is wireless and portable, it is necessary to first refer to the battery. It has a range that according to LG reaches approximately 20 hours. A model that is compatible with Google Assistant, so we can control it with voice commands. It also has Bluetooth 4.0 connectivity so that any user can play music from a compatible source. It has a price of 134 dollars.
Continue Reading: The Pioneer SE-MS5T headphones, a mid-range offering sound support in high resolution
Denon Envaya Mini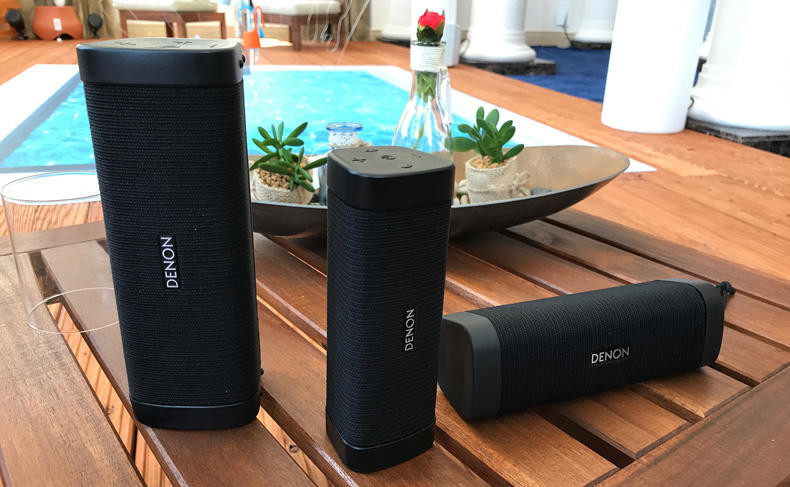 An affordable speaker of the well-known brand that has Bluetooth connectivity and is compatible with the aptX codec in order to improve the sound quality. It offers a range of about 10 meters, being able to pair with each other to obtain separate stereo sound and improve the sound pressure generation capacity without distortion.
It is a speaker compatible with Google Assistant and Siri and also works as a hands-free phone and is splash-resistant (IP67 certified) so we can get it out without worrying. It has a power of 2×8.5 watts and offers up to 11 hours of autonomy. It has a price of 130 dollars. In addition there are two other models, larger and smaller, with different prices and features. It has a price of 121 dollars.
Philips ShoqBox
We are faced with a speaker that draws attention especially for the aspect of robustness that it offers. It is prepared to withstand both water and shock, since it has the IPX7 certificate, being able to submerge in water for 30 minutes. In addition and if its appearance was not already striking in itself, has a striking waterproof lights that vary the color according to the rhythm of the music and also are designed to withstand blows.
The Philips ShoqBox makes use of a 1.5-inch controller with which it achieves clear sound and blunt bass. It can also be connected to any device that has a Bluetooth connection and thanks to its integrated microphone we can answer and make calls. The Philips ShoqBox has a price of 49.90 dollars.
Creative MUVO mini
Another speaker review comes from the hand of one of the brands with more experience in this sector how is Creative. It is the MUVO Mini, a compact speaker that has dimensions of only 190 x 37 x 59 mm and a weight of 288 grams.
The MUVO Mini offers Bluetooth 4.0 and NFC connectivity (it also has a 3.5 mm auxiliary input) so we can send all our music directly from your mobile. It integrates two 1.3-inch speakers and offers IP66 certification, which guarantees a high degree of protection against dust and water (it is not submersible). Regarding autonomy, it integrates an internal battery that gives it up to 10 hours of autonomy and recharges through a Micro USB port. It has a price of 44.47 dollars in the model in white.
Tronsmart Mega
Lowering the price we find the Tronsmart Mega speaker, a model that offers up to 40 watts of power thanks to the use of two integrated speakers, with subwoofer and passive radiator. It incorporates the Qualcomm ATS2825 sound chip. It is also possible to use multiroom with more than one Tronsmart Mega speaker thanks to the TWS technology.
It makes use of Sensitive Touch technology for its tactile control, so that we can forget about problems even though our hands are wet. It integrates a 3300 mAh battery that allows up to 15 hours of operation at a volume level of 50%. In terms of connectivity we can use Bluetooth 4.2 (up to 20 meters away), NFC and an AUX input. Its price is 47.99 dollars on Amazon.
SPC Razz Speaker
The SPC Razz Speaker is the most economical model on our list. It is a Bluetooth speaker in compact format ready to take it with us. It has two 5-watt woofers each that offer a power that can be enough to hear our music without problems in not too noisy environments.
It has FM radio, something more and more in disuse, hands free for mobile so that we can answer and receive calls, Bluetooth 4.2, MicroSD slot, 3.5 mm auxiliary input, USB port for MP3 and WAV files, as well as a 2000 mAh battery. It can be found for a price of 39.90 dollars.