One of the more classic purposes is to eat more vegetables and vegetables in general. Whether it's losing those extra pounds, reducing meat consumption, or looking for healthier habits, it's never a bad idea to increase your vegetable intake. But do you know how to prepare some delicious vegetables?
It is clear that there are many ways to cook vegetables, but if we are looking for a simple method where they are the protagonists, the roast is the best options. Forget chewy vegetables, soft, bland or unappetizing, follow these tips to roast and enjoy irresistible vegetables.
A world of possibilities
There are some vegetables that traditionally lend themselves more to being roasted in the oven. Along with the potato, the pepper and the eggplant are classic in our gastronomy. But we have many more options in the vegetable world to prepare in the oven.
The tubers and vegetables autumn-winter are my favorite for grilling. Carrot, turnip, parsnip, beetroot, pumpkin or sweet potato, flood the kitchen with comforting aromas when roasted on a cold day. The onion, garlic and leek, which are usually the base of risottos, gain a lot in flavor when roasting, and also promise lighter digestions.
Another good idea is to roast the vegetables you usually like less at home, such as cauliflower, brussels sprouts or broccoli. These vegetables are usually cooked or steamed, but roasting them acquire another dimension in flavor and texture, with the power to convert new adepts.
We can also prepare in the oven any vegetables that we usually cook with other techniques, such as green beans, red cabbage or mushrooms. When roasting, the tastes are concentrated with more sweet nuances, with a crisp and crisp texture on the outside, leaving the interior tender and very tasty.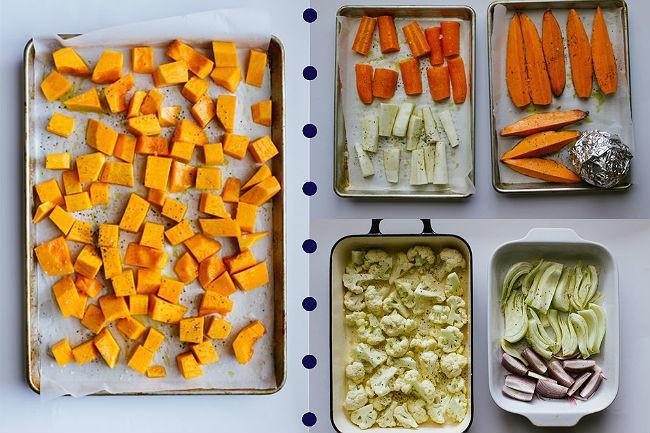 How to prepare them for the oven
To be successful it is crucial to know how to prepare the vegetables before they are placed in the oven. First, we have to know if we are going to roast a single variety or we will mix several different types, since each vegetable needs different cooking times. Vegetables with a higher water content will be roasted faster than the harder and starchy ones, and potatoes will always need more time.
Wash, dry, peel and remove the disposable parts of the vegetables before grilling. Some like eggplant or zucchini do not need to peel them, but if you prefer them without skin, it is better to remove it previously. Then cut and chop into pieces of the same size, to ensure even cooking. Different types of cut offer different textures and finishes, although in general it is a good idea to cut into cubes the size of a bite.
You may also like to read another article on xWorld: 5 Tips to Reduce Food Waste
Obviously, the smaller the pieces the faster they will be roasted. You will also get a roasted and crunchier result, while the larger, thicker pieces will keep a soft and tender interior with an interesting set of textures. If you are looking for the tender and juicy meat of vegetables such as pepper or eggplant, whole grains with the skin. Smaller varieties like baby radishes or carrots are delicious when grilling completely.
An extra touch of flavor
Of course, we can roast the vegetables without adding anything else, but to achieve a really appetizing result it is convenient to season and add an extra touch of flavor. Our allies will be the oil, preferably of extra virgin olive, salt, herbs and spices. Which ones to choose will already depend on our tastes?
In general, Provencal and Mediterranean herbs combine very well with any roasted vegetable such as rosemary, thyme or sage. You can use dried herbs, it is even preferable in some cases, for example fresh parsley could be scorched. Experiment with more exotic spices for different results without fear.
One or two tablespoons of olive oil per tray is a good measure for the vegetables to take on flavor and texture without finishing greasy. Place the prepared vegetables in a bowl or deep fountain, add the herbs and oil and mix well, best with clean hands, rubbing with your fingers. I prefer to correct the point by adding a touch of coarse salt when serving.
The vessel and the temperature matter
Not all trays and recipients serve the same as roasting. It is best to opt for a flat bottom with a straight bottom, to prevent the water from letting the vegetables make a steam effect that could affect the final result. In addition, it is preferable to use a not too dark material, or at least take it into account in the baking time since they heat up more than the clear or transparent surfaces.
It is important not to overload the source. Foods need some free space around for air to flow and, again, to avoid the moisture vapor they give off. Make sure that the vegetables occupy a single layer, without overlapping, and without touching too much with each other. You can roast two trays at a time, one on top of another, if you invert your positions halfway through cooking.
The oven temperature is also a key aspect, and it is best to opt for the maximum heat. Without going, of course, we do not want to burn them on the outside, leaving them raw inside. 200C is a good mark of average for any vegetable, if what you are looking for is a well-browned exterior, slightly caramelized and crispy.
Do not forget to remove
Watch the oven during the cooking time and stir the vegetables well two or three times in the process. If you leave them alone all the time they will be roasted first on one side, with an uneven end result. It is necessary to remove them well to make sure that all the pieces are cooked equally and with the same color and texture on all their faces.
If your oven tends to heat more on one side than on the other, which is often more noticeable when cooking cookies or biscuits, it is a good idea to remove the source and turn it to get all parts of the source to be roasted at the same temperature.
From 25-30 minutes, we can already check the cooking point of our vegetables, which can last up to almost an hour depending on the size and varieties that we grab. There are those who prefer them with a golden look, while others opt for an outside churruscado spot.
Roasted vegetables are delicious freshly made and hot, especially on colder days. They cool quickly so it may be a good idea to lay the fountain on a hot plate if we let the diners at the table serve it to their liking during the evening. Leftovers can overheat, although they lose texture and flavor, but can be reused in soups and creams, tortillas or gratin with cheese.